Written by Sheril Nimeshika Fernando – Faculty of Medicine, University of Colombo (Sri Lanka University Catholic Students Movement – SLUCSM)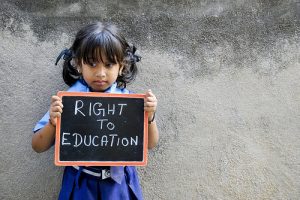 "The Great Roman Emperor Augustus once blew his own trumpet stating that he turned the brick laid Rome, in to marble laid Rome. On this occasion, please allow me to say this. I humbly tell you, I am responsible in giving Free Education to all. Remember all this time you got Education for a big price. You paid a very big sum. I opened a book, which was closed all this time. I opened the door of Education to the poor, which was once meant only for the so called Elite class of this country. It was once a right of HAVES only. I opened it to HAVE NOTS."
Christopher William Wijekoon Kannangara, the great personality known as the "Father of Free Education in Sri Lanka" uttered these words of pride & accomplishment on 4th June 1944. It was on this day that he, as the first Minister of Education of Ceylon presented the Free Education Bill in the State Council marking a golden day in the annals of Education in Sri Lanka.Then began the social revolution of opening the doors of education to all children in Sri Lanka from primary level to the university.
Education is a right. Not a commodity!
The oxford dictionary defines education as the process of receiving or giving systematic instruction, especially at a school or university. That is education defined in its more restricted sense. In a much broader context education can be defined as a process, beginning at birth of developing intellectual capacity, manual skills and social awareness, especially by instruction. Education is an investment in a person's future. It is the most powerful weapon one can use to change the world. Wisdom is the weapon to ward-off destruction. It is an inner fortress which enemies cannot destroy. In the words of Francis Bacon, "Knowledge is Power". Power to live a decent life.Power to earn a decent income.Power that brings one respect and dignity. When knowledge can bestow the power for so many things, why should it be restricted to a few who have the advantage of wealth? Knowledge needs to be free for all those who deserve it, and what a person deserves should be decided by an individual's capability and intelligence and not by wealth. The best and simplest way to disseminate knowledge to all those who deserve it, is through free education.
Concept of Central Colleges
Having realized the pivotal role of free education through the challenges that he himself faced in developing his capacities, C.W.W. Kannangaratried to make it possible for the young sons and daughters of Sri Lanka, to achieve their higher potential and to serve their motherland to the best of their ability.
When analyzing the Sessional paper 24 of 1943, the Report of the Special Committee of Education of which Kannagara was the chairperson, it can be noted that it covered two important aspects. Firstly, every individual must have equal opportunity, so that, provided he has the necessary innate ability, he can lift himself from the humblest to the highest position in the social, economic and political ladder. Secondly, Education in a democratic society should be free at all stages. Thereby, children were provided free education from kindergarten to university level in Sri Lanka.
The concept of Central Colleges, originated from his idea of equity that could cover all children, irrespective of the circumstances in to which they were born. Remarkably these Central Colleges he started produced some of the most brilliant Academics, Administrators and Professionals. The characteristic of this group was that they gave their best for the welfare and advancement of the motherland. The system initiated by Kannangara, produced, fortunately for Sri Lanka, a set of Leaders, who always put country beforeself.
Kannangara's Central School concept was a great boon to the rural children. By 1941, there were 3 Central Schools. In 1945, it was increased to 35. By 1950, there were 50 Central Schools in the Island. Today, there are 57 Central Schools. During the Kannangara Era, every electorate had one Central School. This helped the rural children further their Education and enter Universities.
Present education system of Sri Lanka
Today, there are 10,390 government schools. The curriculum offered is approved by the Ministry of Education. Schooling is compulsory for children from 6 to 13 years of age. Education is state funded and offered free of charge at all levels, including the university level. The government also provides free textbooks to schoolchildren. Literacy rates and educational attainment levels rose steadily after Sri Lanka became an independent nation in 1948 and today the youth literacy rate stands at 97%. The medium of language could be Sinhala, Tamil or English. English is taught as a second language. Students sit the G.C.E. O/L (General Certificate of Education, Ordinary Level) at the end of 11 years of formal education and G.C.E. A/L (Advanced Level) examination at the end of 13 years.
The education structure is divided into five parts: primary (grade 1-5), junior secondary (grade 6-9), senior secondary (grade 10-11), collegiate (grade 12-13) and tertiary(university).
State funded tertiary education
As of 2017, Sri Lanka has 15 universities, all of which are public institutions. These state universities recruit students, 60% by district quota& rest of the 40% by merit basis. The achievement of each student at G.C.E. A/L is assessed by a Z-Score which considers the difficulty level of each subject and gives a cumulative mark. Passing G.C.E. A/L examination with 3Ss (simple passes) is considered as the minimum eligibility criteria to enter a state university. Due to the poor expansion of state university system over the years & restricted facilities, admissions have become extremely competitive. So, only 18% of students who fulfill the aforementioned minimum criteria at GCE A/L get the opportunity to enter a state university to follow an undergraduate course in a specific field based on their Z-score.
Depending on the course a student chooses to follow a Certificate, a Diploma, or a Bachelor's Degree is awarded at the end of the undergraduate programme. Certificates and diplomas are conferred after one or two years. A Bachelor's Degree is earned after three years as a General Degree or after 4 years as a Special Degree.  A degree in Medicine is awarded after 5 years of study with an additional year of internship, which is compulsory.
District quota system
As the years went by Academics realized the original idea of "equal opportunity" is not properly implemented through Central Colleges alone as there were significant differences in resource division& educational facilities available. This was more evident in the process of recruiting students to universities for their tertiary education by G.C.E.A/LExamination. Thus district quota system was introduced in 1970s. This system provided means to both the unequal circumstances children would face at the level of secondary education & a practical solution to overcome it in the long term.
Firstly all the central colleges were not receiving the same amount of facilities & opportunities. So the childrenisland wide attending those schools were at a huge disadvantage when it came to national level examinations, specially the G.C.E. A/L examination which was the sole deciding factor to become eligible to get enrolled into a state university. Therefore a quota was allocated to each of the 25 districts depending on its population & its contribution to the gross domestic product (GDP) of the country. Even though this was not a foolproof system it chose students who performed their level best at the entry examination under a given amount of facilities. Originally it was planned to gradually increase the GDP allocated for education & to abolish district quota system & recruit students purely on merit basis once all central colleges reach a baseline standard. Unfortunately over the years there has been no increment but a severe decline in allocating funds for education. The percentage of GDP allocated for education (primary, secondary & tertiary) used to be 3.5% in 1970s& has steadily declined to a mere1.8% by 2016.
Secondly district quota system was established as a solution to the unequal resource division itself. The idea wasto produce qualified personnel from peripheries of Sri Lanka by providing them with a quality, state funded university education and to send them back to their hometowns as professionals instead of pooling them in & around well-developed cities which already had access to professional services. Thereby minimize the discriminations children & people as a whole would face by being born in a rural area of the country. Although the district quota system has not addressed the unequal resource division in all sectors with regard to differences in access to professional services, it has produced some excellent results in certain sectors like health care. Being categorized as a developing country Sri Lanka has best primary health care indices (maternal mortality rate, infant mortality rate, vaccine coverage etc) in South East Asia which could even compete with that of developed countries. World Health Organization recommends Sri Lanka's maternal & child health care model for developing countries since it is cost effective &works well at grass route level. This is due to availability of professional health care even at peripheries. (The credit of this achievement should go not only to the district quota system but also to the free health care system)
Private education
At primary & secondary level in addition to the Government Schools there are 33 non-fee-levying assisted private schools and 33 fee-levying autonomous private schools. These schools offer the local syllabus as well as the British system. There is another category of English medium International Schools approved and registered by the Board of Investment, Sri Lanka. Some international schools offer the curriculum for the IB Diploma while others coach students for the EdexcelG.C.E. Ordinary Level (O/L) Advanced Subsidiary (A/S) and Advanced Level (A2) examinations. A few schools offer the curriculum for the Cambridge Examinations as well.
Combined with the facts that securing a place at a state university is extremely competitive & those who take the British examinations are not permitted to apply for admission for state universities, private sector has seen the opportunity & stepped in to provide fee levying tertiary education since 1980s. At present Sri Lanka has 16 private universities registered under University Grants Commission as undergraduate degree awarding institutions. Although private higher education institutes have been there for nearly 30 years, over time they have given rise to many issues notably with private medical colleges.
Private medical education, NCMC& SAITM
The first well established private medical college of Sri Lanka was the North Colombo Medical College (NCMC) which was started as a non-profit institute by the College of General Practitioners of Sri Lanka. At the beginning NCMC maintained proper standards & Sri Lanka Medical Council recognized this medical degree. Yet within 4-5 years since its inception its transparency in student admission process & the standards deteriorated & it also threatened standards of state medical colleges by attracting teaching staff for better wages & better facilities. All these gave rise to a university student up rise demanding the government to nationalize NCMC so that university entrance would be purely based on merit &not one's buying ability. Due to continuous pressure by the student body, doctors & other professionals government was forced to nationalize NCMC but at the expense of thousands of young lives. Their sacrifice to safeguard free education was not in vain as today Faculty of Medicine, Ragama (formerly known as NCMC) which is state funded & enrolls around 150 students each year purely on merit basis.
Today we see history repeating itself with the present crisis situation in Sri Lanka's higher education & health sectors arisen due to an ill-conceived, self-proclaimed private medical college named SAITM (South Asian Institute of Technology & Medicine). Since its inception in 2009 this institution has acted fraudulently both academically & financially. Due to its substandard training, to this date it has not obtained Sri Lanka Medical Council recognition. Although a medical college cannot exist without that country's medical council recognition, SAITM has prevailed for 8 years with the backing of corrupt politicians & misusing the loopholes in legal provisions while authorities have taken no legal action against this illegal institution. SAITM started "selling" a degree in medicine at LKR 6 million (USD 40,000) & within 8 years the price has shot up to LKR 12 million (USD 80,000). So basically, medical education being a field of highest demand, SAITM is targeting the "customers" who have a dream of becoming doctors but couldn't fulfill their dream following the established system. The fact that a country's medical education is designed to uplift the health status of the country & not to fulfill anyone's dream of becoming a doctor has become irrelevant. Also the fact that 42% of Sri Lankans have a daily income of less than USD 2 (According to Central Bank Reports of 2016) & they would never be able to enter a private medical college like SAITM, has been purposefully forgotten.
This issue has given rise to a discussion about pros & cons of private higher education among university students, academics & citizens of Sri Lanka as a whole. Being a nation which benefited immensely by the products of free education, it is of paramount importance to analyze this issue intelligently.
Arguments for private university education 
The most popular argument is that private tertiary education, gives an opportunity to everyone to make themselves educated in a particular field, be employed, spend a decent life& be a part of the work force of the country. When this fact is taken into account in isolation, it appears rational. But when it is considered in the present context of the country, it is not so. In the recent past Sri Lankans citizens had to witness a child who hanged himself to death because he didn't have shoes to wear to school, a child who had to steal from neighbourhood houses to collect money to pay for colour washing his class room, a girl who sold her body to strangers to find tuition fees, a mother who committed suicide because she couldn't afford the cost of books of her school going child etc. Apart from these tragic incidents government has officially stated that there are more than fifty thousand school dropouts in the recent past. So when primary, secondary & college education are facing this many issues even when these are provided free of charge, will privatizing university education solve any of these or will it worsen the problems further? Will any of the above mentioned children be able to afford high costs of private tertiary education?
Then one can argue that at least the proportion of citizens who can afford the private education will benefit from it & therefore private & free education can co-exist giving the citizen the right to choose either of the two. But once something is privatized & opened into the market it cannot stagnate in one place. Rather it has to spread further & further which would at one point consume the non-profit oriented government institutions. In simple terms state funded universities would go for a natural death by promoting private universities & education will no longer be a right but a commodity.
It is also said that the government in a developing country is unable to fund the free education system to a level where all students are given the opportunity to study free of charge from kindergarten to university. Considering only 18% of students who fulfill the minimum criteria at G.C.E. A/L become eligible to enter state universities, this argument seems true at its face value. Arguably if a country spends more on free university education there is an opportunity cost of higher taxes or less spending elsewhere. Yet, there is a greater social benefit & it provides the country with a skilled, intelligent work force in the long run. Even today a major demand by both university students & lecturers is to increase the percentage of GDP allocated for education to 6% which is not an unreasonably high value. This will allow the state universities to expand gradually to provide free tertiary education to all.This should be a prime responsibility of a civilized government if itis to prioritizethe citizen needs.
Another wide spread misconception is that free education violates the freedom of education by depriving the students of their right to follow a course of study of their choice. As previously mentioned in this article knowledge needs to be free for all those who deserve it and what a person deserves should be decided by an individual's capability and intelligence and not by wealth. So every student will not be able to follow their choice of study if there's a discrepancy between what they like & what they are capable of. So free education system will differentiate these students based on their ability. But differentiation is not discrimination. The real discrimination will be depriving a capable student of obtaining tertiary education due to his inability to pay for it.
Some people suggest scholarship schemes for ones who cannot afford private education while the rest pay for their education. Although scholarships are intended for the disadvantaged few, the disadvantaged aren't just few in Sri Lankan context. Scholarships help only a handful, for others providing free education would come as a great relief.
Is free education better?
The society is more divided by wealth than by any other criteria. There is the unbelievably rich few, the very rich, the middle income group, the poor, and those in utter poverty. And amidst all this are impoverishment, unemployment, and destitution. How can anyone think of spending money on education, when they do not have money for food and shelter? However, education is the remedy for all these ills that plague the society. Education is the only means that can open up the doors that lead to employment, and through it food, shelter and better quality of life. Therefore, providing free education to the deserving ensures that at-least the future generation can step through these doors to a better living.
Providing free education would enable students to concentrate on learning and gaining more through the education, instead of struggling with the payment of tuition fees and meeting other expenses. When the focus shifts to learning it leads to empowerment of the youth to work towards an increasingly intellectual society.
Free education would lead to more educated people. More educated people in the society leads to overall improvement in the quality of life in the society. Through better employment and elimination of the struggle for basic needs, people would concentrate on the higher aspects of life, such as improving administration and management of issues that impact the society in general. Therefore free education would have a very positive impact on the overall quality and thinking in the society.
More educated people would mean better governance from the grassroots to the national level. Educated people would make better choices in electing their representatives and are better equipped to question corruption and misuse of power. Therefore, education is not only the remedy for the ills of unequal wealth, but also the remedy for the ills that plague our administration and governments. By making education free, we prod our society towards the path of better governance.
Intelligence and talent are not the forte of the wealthy alone. There is lot of untapped and undiscovered talent and intelligence lying covered under impoverishment and destitution. Free education opens the doors of opportunities to these talented people. Through free education, we can ensure that the talented and intelligent can gain the assurance of a better tomorrow through maximizing their academic potentials.
Free education would be beneficial to those who deserve it, as well as, to the society as a whole. Where everybody is talking about equal and better opportunities, the prospects of a better future should not be lost due to lack of equal opportunities for education.
Let me conclude this article with a famous quote which is applicable not only for today but for tomorrow & generations to come.
"Teach the ignorant as much as you can; society is culpable in not providing a free education for all and it must answer for the night which it produces. If the soul is left in darkness sins will be committed. The guilty one is not he who commits the sin, but he who causes the darkness."
~ Victor Hugo, Les Misérables
References:
01. C.W.W.Kannangara – Father of Free Education
            http://freebetterebook.blogspot.com/2009/10/cwwkannangara-father-of-free-              education.html
The Educational System of Sri Lanka
              http://www.fulbrightsrilanka.com/?page_id=609
03.නිදහස් අධ්‍යාපනය රැක ගත යුත්තේ ඇයි?
              http://www.boondi.lk/article.php?ArtID=3475
04.Benefits of Free Education
              http://benefitof.net/benefits-of-free-education/
05.THE BENEFITS OF FREE HIGHER EDUCATION
              https://progressivespring.com/2014/10/17/benefits-free-higher-education/
06.Should university education be free?
              http://www.economicshelp.org/blog/949/economics/should-university-      education-be-free/
07.පිස්සු කෙළපු ති‍්‍රමාලා හා වැඬේ ගොඩ දාගත්තු ධම්මිකලාගේ කතා වස්තුව
              http://rivharapinnaduwa.blogspot.com/2017/02/blog-post_28.html