On 29th January 2017, PMKRI Maumere St. Thomas More celebrated their 23rd anniversary as a branch of PMKRI, Indonesia. There were two social activities to celebrate this year anniversary; a cleaning campaign in the Maumere city and a visitation and donation to Budi Luhur orphanage. The series of activities were conducted by the executive committee of Maumere branch, under the leadership of their Chairman for 2016/2017, Martinus Laga Muli. PMKRI has been active in Indonesia more than 7 decades.
Maumere St.Thomas More is concerned about the environmental problems in Maumere city, such as floods that often occurs during rainy season. Even though rainy season is a blessing for the farmers, it has been disastrous for the people living in the city with ill maintained drainage system. On 28th January, a day before the 23rd anniversary, PMKRI Maumere conducted an activity to clean the 3 kilometers of drainage channel in Jalan Anggrek (Anggrek street).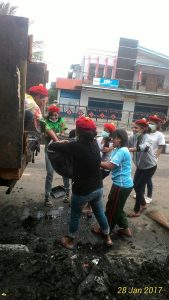 Drainage problems in this area happening since roadblock construction project of government finished. Aim of the project was for beautify the area, but they have forgot about importance of drainage. As the result, stagnant water with height around 50 centimetres that interfere the flow of traffic. This activity was one way to criticize the government for what they have done, and participated by 27 members of PMKRI Maumere. They cleaned the channel which had been neglected for years from 08.45 morning until 12.30 afternoon.
In the next day morning around 10.30 am, the celebration activities were continued with visitation to Budi Luhur Orphanage. This orphanage is look after and taking care of disable and abandon children who came from many area around Flores island, run by ALMA Sisters who were happy and welcome with their visitation. PMKRI Maumere members were moved and touched by happiness and smile of the children. Despite of their conditions, the Children could still perform their creative dance and played with them. After spent almost 2 hours with Children, before leaveing the orphanage, PMKRI Maumere gave them clothes and dry food which were collected from peoples of Sikka region.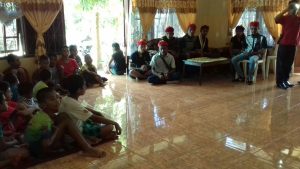 Celebration was finished with a community pray on 29th January evening, as thanksgiving for togetherness and success of activities, from 17.00 pm to 18.30pm in hall of Forum Kerukunan Umat Beragama ( Religion Communities Harmony Forum) for Sikka region. After prayer activity, all members were back to secretariat for reflection and discussion about degradations of moral, human rights, spirits and values of organization due to impact of globalization.