Written by Ms Anne Beatrice – IMCS Asia Pacific Lay Chaplain, Directress of North South Initiative Malaysia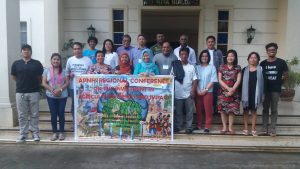 On the 25 to 27 February 2017,Asia Pacific Networks on Food Sovereignty (APNFS) conducted a regional workshop on TNC Investment in Agriculture: Trends and Impacts in Caloocan City, Philippines. IMCS AP coordinator Ravi Tissera and Chaplin Ms Anne Beatrice attended this workshop.
In current time, where the agro chemical companies controls the food system, they begin to produce seeds that need their chemicals and genetically engineered crops that tolerate pesticides ensuring continues sales and profit for them. 95% of the seeds and fertiliser are controlled by only 10 companies and with this control over land, water and coastal area resources are taken by them which led to increasingly control over food production and entire food supply chain.
Dr Rene Ofreneo presented key note on the trends in Agriculture Investment and Impacts where he addressed on Neo liberal "food security".
The key points which came out from panel discussion on TNC Investment and Resource Grabbing: Impacts, Remedies and Actions were Gender Impact Assessment, land grabbing and land usage for industrial crop leads lesser food production which effects the whole food chain. This push out small holder from own farming and leads them to work in contract farming and low wages.  These also threatens local industries and local food crop.
Following this, the APNFS members shared their initiatives to curb the corporate control of food and agriculture by doing some direct action such as Global campaign against Monsanto, https://www.organicconsumers.org/campaigns/millions-against-monsanto/international-monsanto-tribunal